The Pocono Mountains area has plenty to offer each visitor for 'After Golf' activities. Restaurants, Entertainment, Shopping and more...

GOLF'n GAMBLEsm is your one stop choice for all that is involved in your Golf Vacation to The Pocono Mountains.

Choose a Category

77 Sands Boulevard
at the Sands Bethlehem

Bethlehem, PA 18015
Cuisine: American Steakhouse
Price $50 - $70 for Entrees
Phone 484 777 7777
Web Link

Click here for menu.




Emeril's Chop House is a modern American chop house, forged with Emeril's distinctive culinary style. Located at Sands Bethlehem, Emeril's elegant and comfortable chop house evokes the feel of the classic American Steakhouse, updated with modern finishes and a creative menu that goes beyond the usual steakhouse standards. Bronze metal and earth tone leather contrast with mirrored and glass reflective surfaces and crystal pendant light fixtures. Two curved glass front wine cellars separate the restaurant's private dining areas from the main dining room, housing 2,500 carefully chosen bottles on custom polished steel wine racks.

Dinner Hours

Sunday - Thursday: 5 p.m. - 10 p.m.
Friday - Saturday: 5 p.m. - 11 p.m.

Bar Hours

Opens Daily at 4:30 p.m.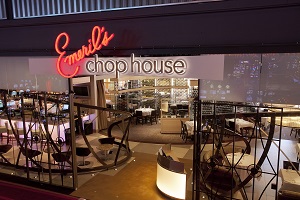 ---

77 Sands Boulevard
at the Sands Bethlehem

Bethlehem, PA Cuisine: Italian
Phone 484 777 7777
Web Link

Click here for Menu.