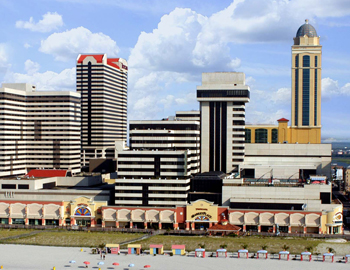 If you are searching for only the best in an Atlantic City hotel and casino, then look no further... welcome to the Tropicana Atlantic City Casino and Resort, New Jersey's premier destination. Plan your next getaway with us and you'll soon find out why Tropicana is a step above other Atlantic City hotels and casinos! With luxury ocean view hotel rooms and hotel suites, round-the-clock casino gaming, gourmet dining, live entertainment, the nearby beach and Boardwalk, and a wealth of shopping, a world-class experience awaits you here. We invite you to indulge at the Tropicana Casino and Resort and experience Atlantic City hotels at their finest.

At the Tropicana Atlantic City Casino and Resort, we're poised and ready to make your stay a memorable one. As the largest hotel in Atlantic City and in New Jersey, we have the staff and the facilities to serve you.
Beachfront hotel accommodations (rooms and suites)
Casual and gourmet dining
Spas and pampering
Indoor and outdoor pools
Revue Shows and headliner entertainment
Casino gambling from slots to blackjack, craps, poker and more

But that's not all ... Introducing, The Quarter

Travel back to Old Havana, where the queen of all resort hotels - the Tropicana - stood proudly at the heart of it all. Today Tropicana's Atlantic City hotel and casino recreates a bit of Old Havana with the most extraordinary destination in the history of Atlantic City, New Jersey. Of all Atlantic City hotels, only Tropicana can boast 21 world-class restaurants, non-stop entertainment, a dazzling array of over 30 shops and south Jersey's only IMAX Theatre... all on the Atlantic City beach and Boardwalk. You'll find all of this and more at The Quarter. The Quarter features three floors of shopping, dining, theater and spa services in a state-of-the-art complex bordering Pacific Avenue and accessible directly from the Tropicana Atlantic City Casino and Resort, not to mention over 500 beautiful new Atlantic City hotel rooms.

Now You Can Have It All at the Tropicana Casino and Resort The Tropicana is like no other destination on the East Coast. We invite you to visit and experience it all!