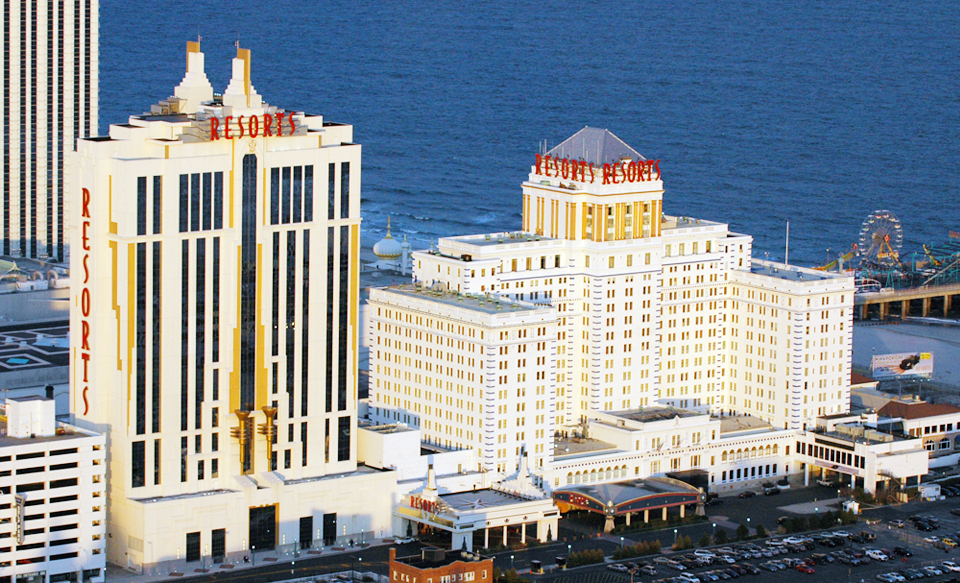 It's a 1920's empire on the Boardwalk. The New Resorts is truly a playground for adults just waiting to be explored. From the stylish and sophisticated Grand Lobby to the luxurious and spacious guestrooms to the uninhibited fun of our lounges, dining, indoor/outdoor pool and more, guests will get to experience a getaway that is unlike any other.

The sleek art deco design and 1920's theme combine to sweep guests into an era that embraced indulgence and fun. We invite you to let us indulge you. Adorned in vibrant, art deco style, Resorts' very own flappers ready to serve your favorite drinks and an all the action you can handle. With prohibition over and casino gaming legalized, the only thing left is to get in on the red-hot action. Open 24 hours a day, seven days a week, the casino features more than 2,500 slot machines and exhilarating table games in more than 100,00 square feet of casino space.

No matter the era, great dining is always a prime focus. Gourmet favorites like Gallagher's Steakhouse, the home of the "New York Strip," the Zagat rated Capriccio to casual fare at The Buffet, Breadsticks Cafe & Grill, Eastwind Noodle Bar and Boardwalk Perks. Savor the elegant atmosphere and impressive cuisines at our fine dining restaurants. Or visit one of our five casual dining venues and enjoy the comfort of a great meal at an affordable price.

Who doesn't love a good party? Resorts is party central with live entertainment seven nights a week in our lounges, bars, clubs and showrooms. Sit back and relax, and have some fun at 25 Hours Bar, Pro Bar or whatever atmosphere you're looking for - we've got it!

Coming this summer: Jimmy Buffett's Margaritaville, LandShark Bar & Grill and 5 O'Clock Somewhere Bar!